Korean Gradient Eyebrow (Package)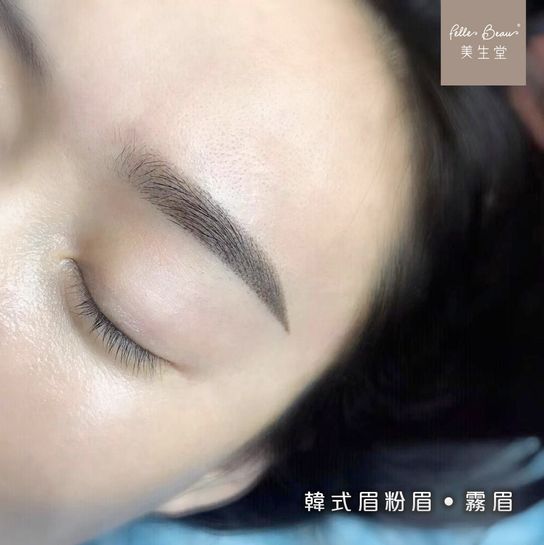 Korean Gradient Eyebrow (Package)
Korean Gradient Eyebrow results natural as usual makeup but saves the makeup time everyday.
Include 1 retouch procedure(s) within 6 months

Principle
Our experienced semi-permanent makeup artists will do the pigmentation by layer by layer, to illustrate a light to dark color of eyebrow which we called "gradation".
Results
Korean Gradient Eyebrow is made by thousands of tiny little pigment dots through machine which show a gradation effect just like makeup which is dark at the end point and light at the starting point of eyebrow. If your natural eyebrows are light in color, Korean Gradient Eyebrow can help to present a natural and shape look for you.
With Korean 3D Micro-blading Eyebrow
Korean 3D Micro-blading Eyebrow can be used together with Korean Gradient Eyebrow to have the most natural korean style eyebrow.
Process
Consultate with client and design the eyebrow

Apply cleanser on procedure area for sterilization and anti-inflammatory

Apply soothing cream to reduce painful

Apply wound shrinking fluid to help stop bleeding and prevent color lost

Finally apply coloring solution to help fix color
Why Felle Beau different from others?
Experienced semi-permanent makeup artists: Our makeup artists have provided service to many artists, models, signers.
Safe and reliable pigments: We use pigments from US and Europe, all

certifie

d save.
Difference between Korean 3D Micro-blading Eyebrow and Korean Gradient Eyebrow
Korean 3D Micro-blading Eyebrow is done by making hair stroke in two pigments to fill up the eybrow design, it is natural like real hair. Korean Gradient Eyebrow is a method apply one pigment on eyebrow by making thousands of tiny little dots of pigment through machine which show a gradation effect.

Can I decide which eyebrow tattoo technique to have after consult with makeup artist?
Yes.  You can pay deposit first and consult with our semi-permanent makeup artist to decide which eyebrow techniques you want to have.
How long does it take for the whole procedure?
The whole procedure will take around 60 minutes, but it takes around 10 minutes only to put pigment on one side eyebrow. Before that we will apply soothing cream on eyebrow area first and design the best eyebrows that suit you. Procedures will be done according to the design you confirmed.
Is it hurt?
Procedure will be handled by experienced semi-permanent makeup artists, actual pigmentation procedure for one eyebrow is only takes 10 minutes, it won't be much hurt. And we have different painless techiques to reduce the uncomfort during the procedure.
How long does it last for?
The eyebrow tottoo will last for around 3 years and color starts to fade after 3 years. The package included 1 retouch procedure, can be used within 6 months, no extra charges.
Precautions
The color will be a bit dark at the first day and start to develop scab from third to seventh day. We need 28 days to a month for our skin to have a total recovery. The level of pigment remains in skin is fixed after one month.
Some of the people will have a better pigmentation but some are not, depends on the type of skin. For oily and sensitive skin, it is more different to left pigments in skin, that is the reason why we have to do retouch, to repigment and do adjustments.
To have a better result, it is better not to have water wash on procedure areas until all scabs are off and not to scratch the procedure area or try to tear off the scabs artificially.
Can I have a eyebrow remake even I got tattoo already?
Eyebrow remake is possible if:
Tattoo color has been fade and light enough to have a eyebrow remake (photo 1); and
New eyebrow design can cover the old design (photo 2&3).
Or eyebrow remake has to be done after Laser Eyebrow Tattoo Removal.